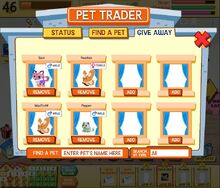 The Pet Trader allows you to adopt animals that your Neighbors or friends have given up for adoption. It also allows you to place some of your Pets up for adoption, if you should feel like giving any of your pets away. You can remove your pets from the Pet trader at any time you please as long as a neighbour hasn't already adopted them.
Putting a Pet Up for Adoption
Edit
When putting a pet up for adoption the game will give you three choices on how you would like to do so.
Password Protection is when the player creates a 5 digit password when putting a pet in. This is usually done when the player gives a certain neighbour a pet, to prevent other neighbours from stealing it. Or to free up room temporarily in the players house and to ensure neighbours don't steal their pets.

Basic Adoption is when the player puts a pet in without security like the password protection or item swap. This is usually done to give away animals for free to neighbours and free up space in the home. With this choice any neighbour would be able to collect your pet.
Require Item Swap is when a player chooses a particular item from the store that they desire and is usually purchased by bucks (don't worry, you are not purchasing this item yourself.) In order for a neighbour to adopt your pet they will have to purchase that item for you, like a trade! Only pets and pet accessories can be chosen from the store for a valid item swap.
The Process of Adopting a pet
Edit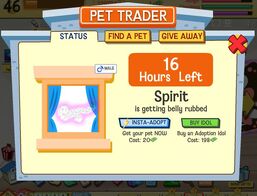 The process of adopting a pet is simple, you scroll through the "find a pet" tab in the trader and you will see all your
neighbours pets up for adoption (if they have any.) They will have any of the options above on their pets and to obtain them you must follow those instructions. Once you have decided on a pet you want to adopt it will appear in the "status" tab. in 24 hours the pet will be ready to take home and will appear in your giftbox.
Instant Adoption
Edit
There are two ways of obtaining your desired pet instantly through adoption, if you have the money that is.
Insta-Adopt is where you can instantly adopt your pet as a one off use. It costs 20 bucks.
An Adoption Idol is an idol where you can insta-adopt a pet once every day, forever, and is limited to one account only. the price of an Adoption Idol is 198 bucks.
Community content is available under
CC-BY-SA
unless otherwise noted.